Tour the Scotland of India – Coorg
Coorg is also known as Kodagu, is a rural district in Karnataka. This quaint hill station at an altitude of 1750m is well known for its massive coffee plantations, sprawling greenery, glaring streams, Talking woods and the glamorous earthy culture of the Kodavas. Coorg is gifted with the most pleasant climate round the year. The average temperature prevailing happens to be 15 c- 20 c. The best months recommended for tourists to visit are March – April, Where they can wallow in the white bloom shrouded valley and experience the adventure activity to the fullest. Trekking, River rafting, Coffee plantation tour, Elephant camping happens to be the most notable adventure activities around Coorg. Coorg is proudly titled as the Scotland of India due to its pampering climatic conditions.
Top Tourist Places in Coorg
Abbey Falls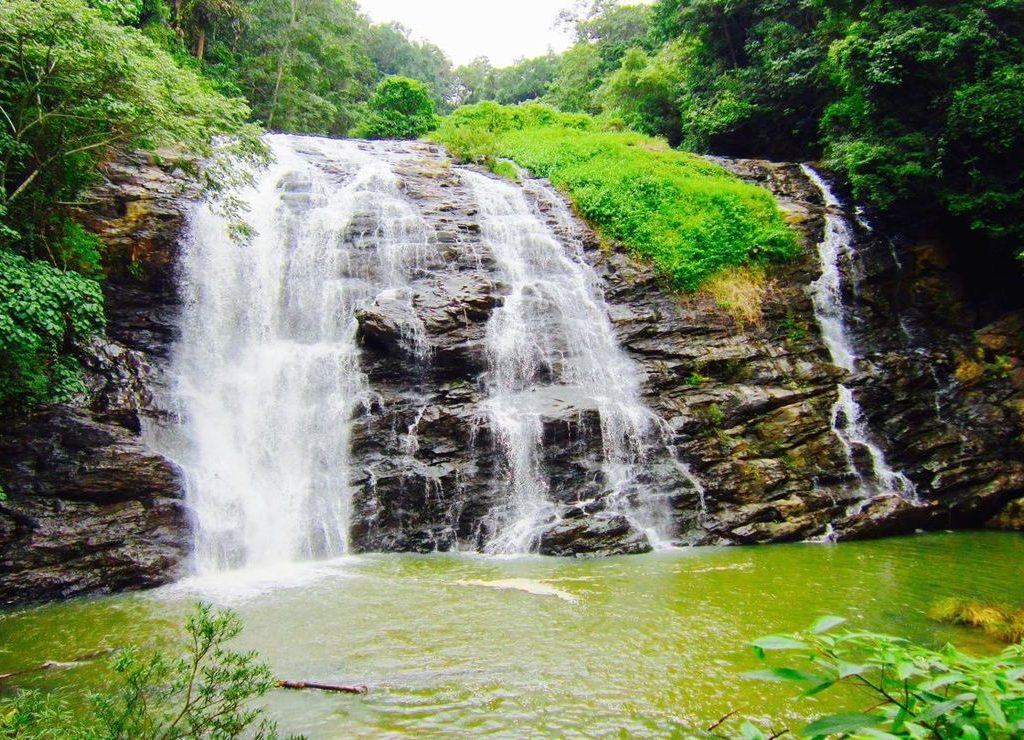 The Abbey waterfall is located 8km from the Madikeri town, in between the coffee plantation and spice estates. The sound of the waterfalls is echoed over miles and is such a soothing retreat to our eardrums. The beauty of the cascading water over the rocks are best viewed from the hanging bridge that is constructed just opposite the falls. The best time to shower in the falls is during the early winters.

Dubare Elephant Camp
Hug, chat, Play, Feed, Bathe and ride on the most lovely animal on earth, Elephants! Dubare is the elephant camp on the banks of the river Kaveri. The moist deciduous forest of dubare is home to many wild animals. The Karnataka forest department provides amazing nature activities for the tourist such as trekking, river rafting, jungle ride, elephant interaction, and forest stay. The Best destination for all the animal lovers to hop on!
Omkareshwara Temple
The temple is located in Madikeri, The temple is dedicated to lord shiva. which was built in 1820 by king Linga Rajendra II. The enchanting architecture of this temple is a fusion of Islamic and romanesque architecture. It is a must-visit place for all those aesthetic lovers.

Talakaveri
Talakaveri is a place where the holy river Kaveri originates. The source of the river is spiritually acknowledged by a temple and frequently visited by thousands of pilgrims across the nation. It is the main worship center of the Kodavas. To bathe in the holy spring on auspicious days is believed to fade off all our past sins.

Raja's Seat
This is one of the most important tourist spots of Coorg. The Raja's Seat is a garden with lavishly spread blooms and splashing fountains. It is constructed in an elevated ground level and the view that it offers are commendable. It is said that Raja's Seat happened to be the favorite spot of the kings of Kodava. Melt in the mesmerizing beauty of nature from the Raja's Seat.

Madikeri Fort
Madikeri Fort was founded by Mudduraja in the late 17th century. It was eventually rebuilt by TipuSultan and later was renovated by Lingaraj in the 18th century. The museum houses several war materials including weaponry and artifacts that were used in the tipu sultan era. Listen to the stories of history from the expressions of the Madikeri fort. Besides, Coorg has got simply more. It is a master in offering unique places and treating everyone's personal interests. Your crave may be for anything, Coorg has everything to quench that. Enjoy your amazing Coorg tour with us. Book your tour packages at www.himalayadestination.com